Research Project IILSE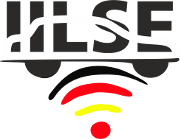 The project IILSE aims to set a cornerstone for an international, cooperative and also target-oriented discussion with the subjective for a global harmonization of charging infrastructure standards. Already the German National Platform for Electric Mobility (NPE) has identified this as key element for a successful market penetration of electric mobility. In a bi-national exchange with Japanese partners the focus will be put on inductive charging. Accompanying we will scientific evaluate the topics of inductive charging and international e-roaming.
The project IILSE is part of the funding program "ELEKTRO POWER II: Electric Mobility – Positioning Along the Value Chain" and is funded by the German Federal Ministry for Economic Affairs and Energy.
Participating institutes
Center for Applied Law (ZAR),

PD Dr. iur. Oliver Raabe


French-German Institute for Environmental Research (DFIU), Chair for Energy Economics, Prof. Dr. Wolf Fichtner




Institute of Applied Informatics and Formal Description Methods (AIFB), Chair Prof. Dr. Hartmut Schmeck

Institute of Electric Energy Systems and High-Voltage Technology (IEH), Prof. Dr.-Ing. Thomas Leibfried